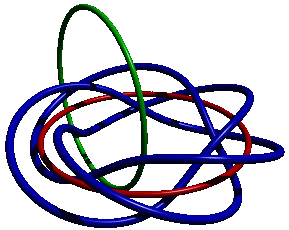 Introduction to Abstract Algebra
(Math 121)

Fall 2003


Instructor: Paul Aspinwall

Credits: 1.00, Hours: 03.0

Time: Tuesday and Thursday 12:40 PM-1:55 PM

Location: Bio Sci 113

Homework
Exams
There will be one midterm exam (answers) and a final exam. The midterm exam is on Tuesday Oct 7 during the class. The final is on Friday, December 12, 9:00am - noon.
Honor Code
The honor code may be found here. Collaboration is encouraged but see here for details.
Synopsis
A rough outline is as follows.
Integers
Rational, Real and Complex Numbers
Polynomials
Quotient Rings
Field Extensions
Groups
The RSA algorithm
Textbooks
The course will be based on the text:
---
Return to: SISS main page * My Home Page * Department of Mathematics * Duke University
Last modified: